Lawrence Bacow Announced as Harvard's Next President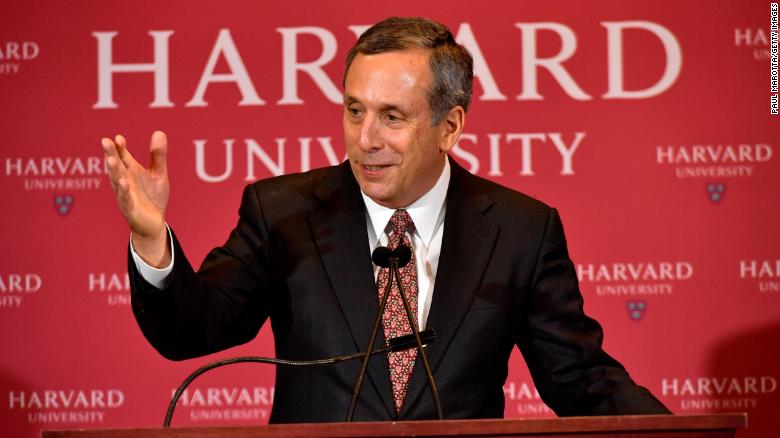 This week, Harvard University announced that Lawrence Bacow would be its 29th president, succeeding Drew Faust, effective July 1, 2018.
Bacow received his undergraduate degree from MIT, and has three degrees from Harvard, including a Ph.D. At MIT, he was a faculty leader, and became the Lee and Geraldine Martin Professor of Environmental Studies, the Chair of the Faculty, and the Chancellor. Following his time at MIT, Bacow spent 10 years as President of Tufts University. For the last six years, he has served in various leadership roles, such as President-in-Residence at the Harvard Graduate School of Education and Hauser Leader-in-Residence at the Harvard Kennedy School's Center for Public Leadership. In addition, since 2011 Bacow has been a member of the Corporation, the university's principal governing board.
Bacow points out, "We need to do a better job of controlling our costs. We need to do a better job of operating more efficiently. We need to collaborate with others, with our peer institutions, with industry, and the broader world. And, we need to be vigilant to ensure that our campuses are always open to new ideas, that they are a place where our members feel free to express themselves and also where every member of this community feels that he or she belongs."
William Lee, Chairman of the university's Presidential Search Committee and a Senior Fellow for the Harvard Corporation, comments, "Larry Bacow is one of the most accomplished, admired, insightful, and effective leaders in American higher education. This is a pivotal moment for higher education – a time full of extraordinary possibilities to pursue new knowledge, enhance education, and serve society, but also a time when the singular value of higher education and university research has too often been challenged and called into doubt. Such a time calls for skillful leadership, strategic thinking, and disciplined execution. Larry will provide just that."
For additional information, visit the Harvard University Web site.
Albert & Company International, Inc. is a one-stop shop for Executive Development and talent management. Our vision is to help individuals gain the knowledge they need to excel, thereby increasing their efficiency and productivity, leading to better organizational growth. For more information on this and many other courses in our extensive Executive Education database, the most comprehensive and complete of its kind, visit us on the Web at http://albertconsulting.com, or email us at info@albertconsulting.com.